Guided Navigation
What is Guided Navigation?
How do I narrow my search?
How do I expand my search?

What is Guided Navigation?
Guided navigation is the ability to add and remove keywords and categorizations of items to filter your results. As you add these filters, they appear in the breadcrumb trail above the search results. You can remove any filter from the breadcrumb trail at any time.

How do I narrow my search?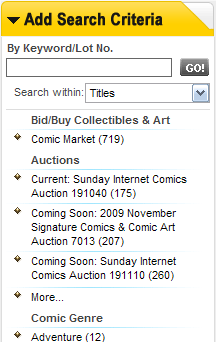 You can add a filter in the left column, such as "Comic Genre", "Current Bid Range", "Reserve Status", "Comic Grade", and so on. Each time you make such a selection, the listing of results will become smaller, showing only those items that meet all the criteria you have selected. You can also enter one or more keywords, such as "Spider-Man", if that will help your search. Sometimes a new selection will open up new sub-selection possibilities; for instance, once you choose to look for Comic Art, you can then choose Splash Pages, Comic Strip Art, Illustrations, or whichever suits your collecting interests best.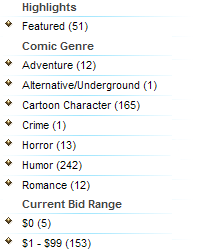 How do I expand my search?
You can add or drop fields or keywords from your results at any time. Above the listing of results is a complete list of the filters you have selected. Click on the remove link next to any filter to remove it, and the page will refresh to show all items matching the new broader specifications.
For Example:
Imagine - you collect Golden Age DC Superhero Comics. You want the highest quality books available, and you are only interested in slabbed comics. How do you search for them on the Heritage site?
In the past, you can browse or search for "Golden Age Superhero comics. But that's it — beyond that search you are at the sometimes perilous mercy of the descriptions of the book. And there's never been a way of searching for Superhero comics across categories.
Our targeted searches are much more powerful. Choose one from Comic Category:
Platinum Age (1897-1937)
Golden Age (1938-1955)
Silver Age (1956-1969)
Bronze Age (1970-1979)
Modern Age (1980-Present)
Magazines
You'll see a list of comic genres:
Religious
Romance
Science Fiction
Superhero
War
Western
To get to DC books only, choose from Comic Publisher:
DC
Fawcett
Timely
Quality
Lev Gleason
What about grading service? Our many Registry Set collectors might have that on their mind. If this matters to you, go to Coin Grading Service and choose the service — or services — that most interest you; you can choose as many as you want:
And maybe you're only interested in the finest available quality. From Coin Grade choose the grade — or grades — you're looking for:
Poor 0.5 to Very Good- 3.5
Very Good 4.0 to Very Fine- 7.5
Very Fine 8.0 to Near Mint- 9.2
Near Mint 9.4 to Gem Mint 10.0
Or even a featured book in an auction, in Highlights:
Featured
Video Description
JH Exceptional
Virtual Bourse
And, if you like — add a keyword (use the box right below "Refine Your Results"):
To change your search from Superhero to Science Fiction, click "Remove" next to your selection of Superhero at top, then choose "Science Fiction" from the list of genres on the left.
Keep in mind always that your available search selections are on the left side of the page, and that the listing of selections you've already made is at the top. You can always remove a selection you've already made by clicking on the "Remove" link next to it. Remember: you can make your selections in any order!